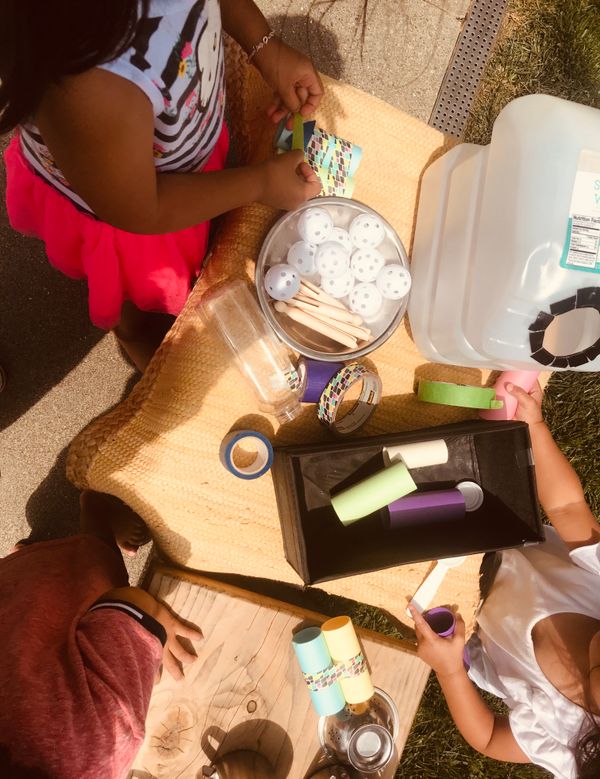 Play- Facilitators
---
On this page
(Who they are and how we may become one?)
A very warm welcome to you!
As a community, we have always believed that loving relationships are essential to brain development in the early years of life, and we have always been researching and brainstorming how these early interactions can have lasting consequences for future emotional and physical health of a child.
Play Facilitators play a crucial role at Parents' Nook. Play Facilitators and thus the play spaces, are inspired by the work of Magda Gerber/RIE, Waldorf, Reggio Emilia and Simon Nicholson. These philosophies support children by providing open-ended, often natural, play materials and follow the development of the whole child concept. The Play Facilitator will take a more "hands off approach" than direct teaching or "entertaining", allowing the children to discover different skills to learn at their own pace. We are looking for Play Facilitators who are familiar with these philosophies or are open and willing to learn. There will be orientation for the Play Facilitators to take part in and a monthly meeting with the Play team.

As a facilitator we encourage ourselves to ask the below questions while observing a child and their play:
What is wanted from me at this moment?
Can I be so present around the children and the play space so that some elements of the children's experience become available to me?

Parents' Nook welcomes play facilitators from the local community. If you feel drawn to the flavor of the project and would like to contribute to it, please take the leap and fill the below form
Parents' Nook arose from a desire to bring together purpose aligned parents, teachers, child care providers, homeschoolers and others who seek a deeper connection with others who walk this path of providing meaningful care spaces to families and an environment where open ended play is nurtured and thus becomes a norm in the world.
We are just getting back up post pandemic and filling the form would help us let us know your schedule preference.
Position Details:
Responsibilities:
Each Play Facilitator is responsible for exhibiting good communication, problem-solving and priority setting skills as well as maintaining an overall positive attitude. In collaboration with Parents' Nook Team:
● Promote positive relationships with all children and adults
● Create a safe and nurturing environment for young children and families
● Assist with Nook's set up and clean up
● Supervise children at all times when in session
● Perform light housekeeping and child maintenance duties.
● Participate in the orientation with the Play Director, and attend twice a month meeting (zoom/in-person) with the Play Team.
Health and Safety
By Joining Parents' Nook as a Play Facilitator, you'll join one of the few communities where we take everyone's safety and health seriously. You'll facilitate in-person, in a small environment that takes your health and safety into account.

Preferred Qualifications:
● Experience working with infants and toddlers
● Basic knowledge or willing to learn more about RIE, Waldorf and Reggio Emilio philosophies
● A Play Facilitator must be at least 18 years old
● Must be able to perform and meet the physical demands required in this capacity (ability to sit on the floor, bend at the waist, kneel and/or stop most of the time)
● Complete a health screening, Negative COVID Test, and negative Tuberculosis test
● Must have a current Pediatric CPR and First Aid certification or ability to obtain
● Complete a California criminal record clearance via DOJ, FBI, and CACI clearance
● Employment Background Check History Verification.
Compensation commensurate with qualifications and experience. You will be joining a trusted community of parents and facilitators who are passionate about Play and children
Who are we: We are a network of parents, educators, care-givers, play advocates, space collaborators, technologists, researchers, community organizers, and artists trying to create the world we believe in. We believe these care spaces are essential to the survival and well being of parents and children.These micro communities would enable each community to design the circles in their own way overarching with our common set of beliefs. This would generate local coordination, trust and employment in the local community.Through this model we are remixing historical Cooperative Organization models with decentralized Web3 needs.
All posts by date